White Label SD-WAN Technology for Service Providers
Traditional SD-WAN vendors and products are priced for enterprise adoption leaving a huge part of the market out priced and unfulfilled. For this reason, we have no upfront fees, no volume commitments, and simple, per-site pricing that empowers Service providers to create more products for more customers.
No Start-up fees. Simple, Per-Site Pricing.
Lower TCO, Higher Profit Margins.
Ready for you to Test and Deploy in a single day.
Priced for the under-served market – Priced for Service Providers.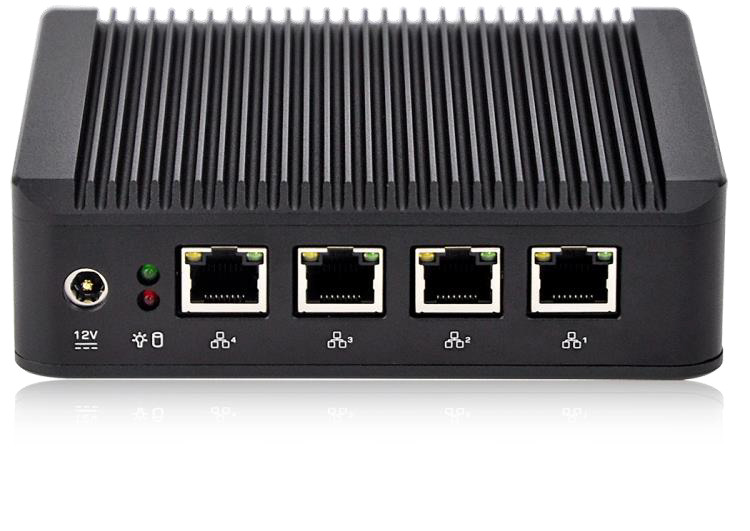 White Label SD-WAN Technology – Your brand, your infrastructure
HD WAN resides in the Service Providers infrastructure. This means that an ISP operates and manages HD WAN on their network.
HDWAN encourages service providers to offer SD-WAN products under their own product names and branding. Sell new products, sell more connectivity and grow your brand with
HD WAN.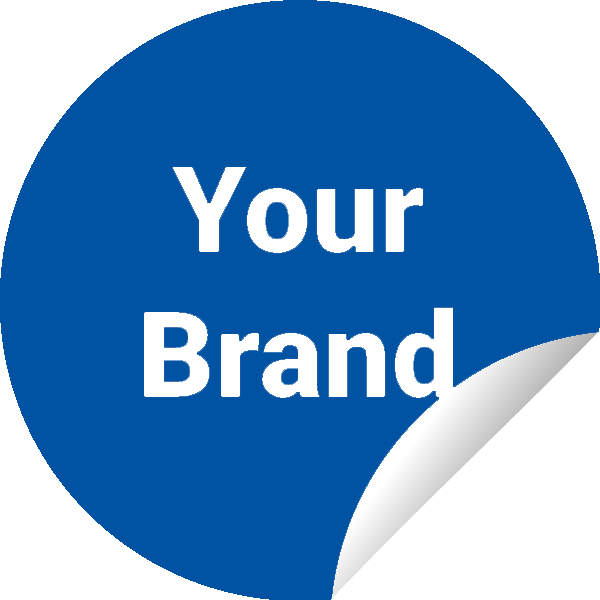 White Label SD-WAN Technology – Create new product offerings
With HD WAN, service providers can break up features such as Backup Internet and Bonded Internet to create solutions that target Small Businesses, Residential, Remote and Rural, Mobile/temporary offices and more. Create new opportunities, sell more connectivity and win new business.
We also help by offering go-to-market resources and insights to help build new product lines.
12 products you can build, market
and deploy today!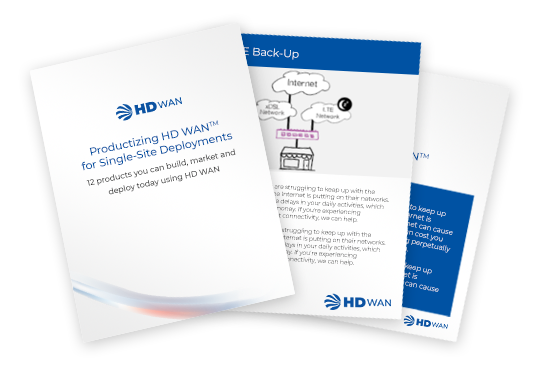 Go to market with products your customers will love.
White Label SD-WAN Technology for Small Business
Priced for the under-served  Market – Priced for Service Providers.
Traditional SD-WAN vendors and products are priced for enterprise adoption leaving a huge part of the market out priced and unfulfilled. For this reason, we have no upfront fees, no volume commitments, and simple, per-site pricing that empowers service providers to create new products and services for broader markets.
SD-WAN as a Service at Broadband Pricing

Cloud-Hosted Orchestration
Customer configurations are built and managed through a Cloud-hosted, multi-tenant Orchestrator, complete with powerful graphing and zero-touch provisioning. Come see for yourself how easy it is to set up and deliver HD WAN to your customers.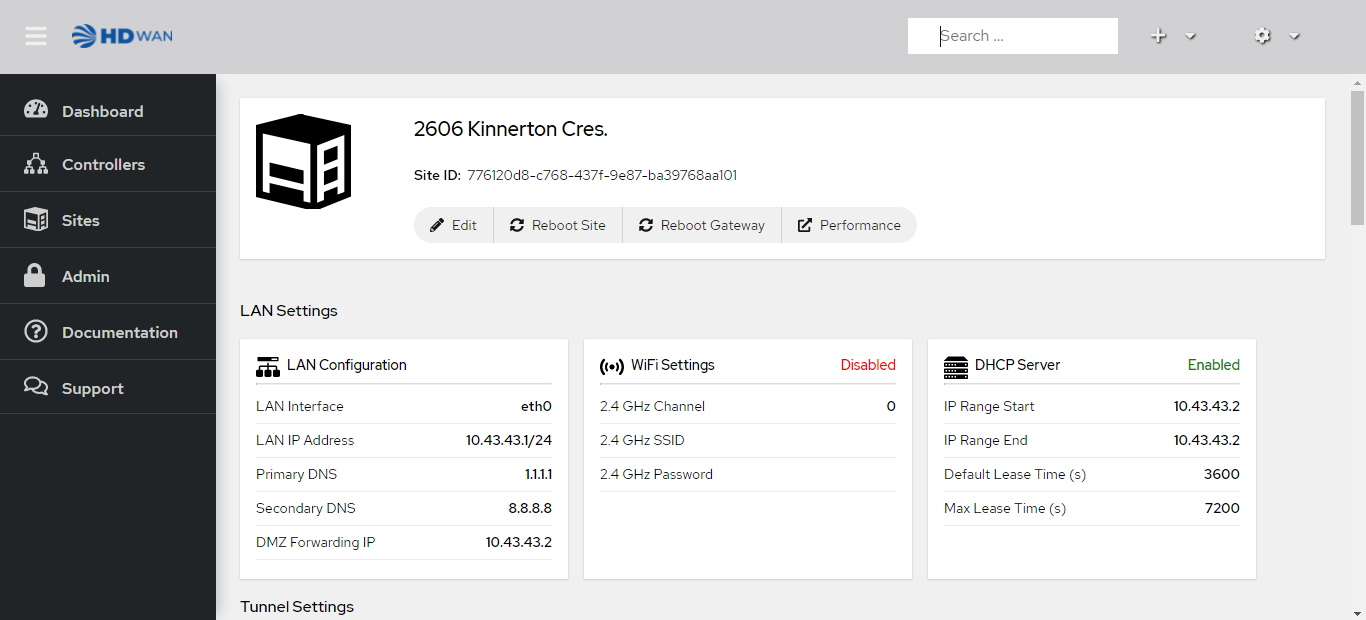 White Label Resources
SD-WAN has been touted as the biggest change to networking since, well, the internet itself. With so many potential solutions to offer, HD WAN has made it easy for service providers to get in the game and start selling and deploying right away.  With Access to our Portal, sales teams can download resources ready to use and re-branded.
Software Defined Wide Area Networking – Training
In essence, SD-WAN is the ability to implement and manage (build, change) various network functions, in-flight traffic, and WAN traffic routing rules. Because of this, we have put together training that lets sales teams understand the basics and get them offering solutions to current and new customers.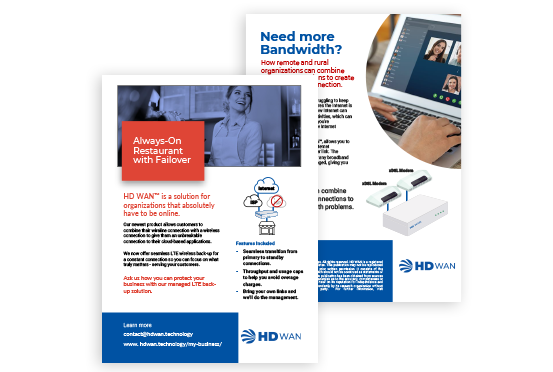 White Label SD-WAN Technology Frequently Asked Questions
Can Service Providers White Label HD WAN?
Yes. All Service Provider partners are encouraged to re-brand our marketing kits, Edge Devices, and rename the service to a name of their choosing. Service Providers may also continue to use our brand name in accordance to
trademark usage rules
.
What WAN topologies does HD WAN support?
Like most SD-WAN technologies, HD WAN is deployed as a hub-and-spoke model. This means that your customer end points connect to a controller hosted centrally in a data center (either in the Cloud, at your customer's Headquarters, or, most commonly, in the Service Provider's various points-of-presence. HD WAN can be deployed as hub-and-spoke, or full mesh, using the same physical topology.
Does HD WAN require hardware or software on both ends of the connection?
The HD WAN tunnel is created between two endpoints. For example, the Service Provider's Data Centre will have HD WAN software on designated server(s) and customer endpoints will have HD WAN software running on a Customer Edge Device (SD-WAN CPE).
What sort of bandwidth does the HD WAN tunnel support?
The HD WAN tunnel supports speeds in excess of 2.5Gbps – in fact, the only limitations to extreme speeds are the bottlenecks at the DC or Hardware Processing Power. Using the Link Aggregation (Channel Bonding) feature does slow the tunnel, but as you can see from the video below, the system can achieve 1.83Gbps on a run-of-the-mill i7 processor.
How scalable is HD WAN? What is my ROI?
HD WAN scales well in two ways:
First, we boast some of the fastest channel bonding (link aggregation) speeds in the industry. As your customers need more bandwidth, HD WAN can help you meet those needs. Other vendors cap out at 1Gbps, which means they're already too slow for most markets.
Second, the core HD WAN infrastructure is highly scalable. In the video below, we demonstrate how a ~$5000 server can support as many as 400 customer end-points. Take a look, we don't think you'll find another provider as dedicated to helping you achieve positive ROI.
How long does it take to provision a HD WAN node?
In our model, the Service Provider is on-the-hook for provisioning the service's two nodes.
Provisioning the multi-tenant SD-WAN Controller takes less than 2 hours. Each HD WAN CPE (or Edge Device) takes approximately 2 minutes – including the OS.
Does HD WAN Provide the HD WAN Node Hardware?
Yes and No. In our
partner portal
(you should check it out!), we have standard CPE hardware we support with a 1-yr warranty. There are 4 different models we supply for the Edge Devices.
We can help service providers source sufficient hardware for their controllers. If you've got any questions, please get in touch.
Are there any Single Points of Failure? Does HD WAN support any Core Redundancy?
HD WAN has multiple business continuity features. Obviously, the WAN connections can be used to to reduce the customer End Point's risk of failure.
But the tunnel itself automatically re-establish itself to a back-up controller in the event of a failure in the data centre. Each site can be assigned two controllers – one as primary, one as backup.
On top of that, Each device will automatically enable a pass-through interface to act as the CPE gateway in the event all controllers are offline, ensuring the customer can still reach the Internet.
How Much Data is Consumed by Standby Connections?
Standby links are connections that are largely idle until a primary connection fails and HD WAN's needs to engage it to keep customer traffic flowing. These links are monitored regularly by the HD Controller through heartbeat "pings". These pings use approximately 250MB per month.
Does HD WAN Support and Bond any traffic type? Are there any limitations?
Yes, all traffic works fine. HD WAN Channel Bonding is at Layer 3. There are some modes where there are restrictions (DMZ). Best to contact us to ensure your specific need is supported.